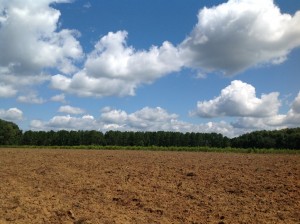 Buying your first piece of rural land can be very exciting. First time land buyers often tell me, "I want to buy a piece of land, but I don't really know what I am doing." Buying land is something most people do only a couple of times in their life, so this article is aimed at increasing your chances of having a successful transaction.
The list of questions and information contained in this article are not meant to be exhaustive or to give legal or other professional advice, but are for general informational purposes only. You should seek the counsel of a licensed attorney or other professional about your particular situation.
Alabama has some unique laws when it comes to purchasing real estate. We are one of the few remaining Caveat Emptor states. Caveat Emptor is Latin for "Buyer Beware". Alabama law puts the responsibility for determining the suitability and condition of a property squarely on the shoulders of a prospective buyer. Sellers, and their agents, are only required to disclose Health and Safety issues related to the property and in some cases Latent Defects with the property. Mississippi, and many other states, require a seller disclosure when selling a piece of real estate, and you can see a copy of the Mississippi disclosure form here.
Alabama has a unique provision in the real estate law that allows for the agents of sellers to disclose information that affects the transaction if the information is specifically requested, and if that information is not required to be kept confidential. There will be things that a seller's agent is not legally allowed to disclose if the seller does not authorize them to do so, because it violates their fiduciary duty to their client. However, the maxim from the Scriptures is often applicable concerning information in a real estate transaction, "You do not have because you do not ask." The best suggestion I can make is for you to ask the questions, and the seller's agent will either provide the answer or tell you that they cannot answer it.
If an agent does not fully answer your question, do not necessarily take this as a sign of bad faith dealings with the agent or the seller. Last year I was asked by a buyer's agent if there was an appraisal on a property I had listed. The buyer's agent asked if I would provide a copy of the appraisal. My sellers did not allow me to share the appraisal information with the prospective buyers because they felt the negatives to sharing outweighed the positives.
I have created a pdf list of 24 Buyer Due Diligence Questions to ask. The list is meant to be a helpful checklist to determine if a property fits your needs. It is by no means exhaustive, and should not be relied upon solely as the means for making a decision to purchase. You should additionally consult a licensed professional or attorney about your particular situation.
If a property you are considering checks a lot of your boxes, fits within your budget and meets your objectives, you should strongly consider making an offer. Hopefully you already have your financing options in place, and will be ready to move forward. Buying land, like any other business decision, is simply making the best decision you can with the information you have available. The Due Diligence phase is a crucial part of making the best decision possible, so ask the questions that will give you the best information. I hope this is a helpful resource as you move forward with your land purchase.
Written by: Jonathan Goode is an Accredited Land Consultant (ALC) with Southeastern Land Group and is a licensed broker in Alabama and Mississippi