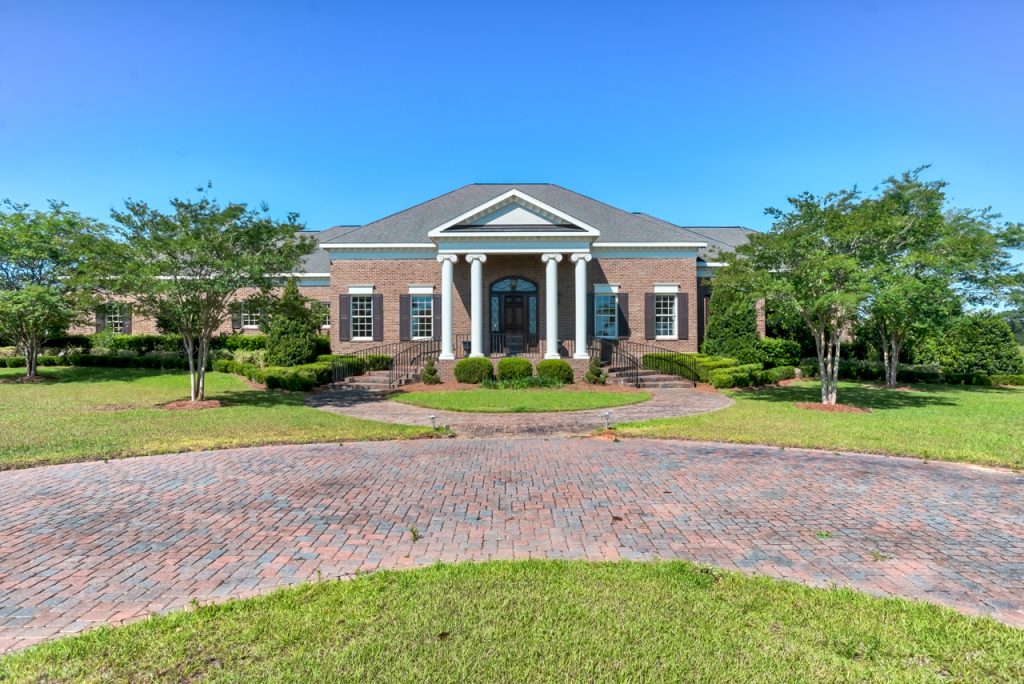 By now many of you may have seen the Facebook posts about this beautiful new farm listing in North Florida. If not, you can get all the information on our listing page: selg.biz/8716 (main narrative copied below). As one of the listing agents, I wanted to take a few moments to talk more about my impressions of the property – why I think this is one of the most beautiful properties and best values currently on the market.
I've been active in North Florida rural land sales for going on 4 years now, and that time has afforded me many opportunities to explore beautiful properties. Florida is known for its beautiful beach communities and tourist attractions, but it is also home to some of the most exquisitely appointed rural properties in the Southeast. Campbellton Farms is one of these properties. Anyone that has ever driven the US-231 route from Alabama to Panama City would have been hard pressed to ignore this property as they drove past. For nearly two miles along the highway, the passerby is afforded a lovely view of rolling red clay farmland, waving hay pasture, ponds and open hardwood hammocks – not to mention the estate on the hill at the end of a live-oak lined drive. Those that have had the privilege of passing through the wrought-iron entrance gates can speak to the sights, sounds and smells of working farm fields, migratory birds, and an Old World landscape that is quickly disappearing in other parts of the South. Personally, to see this land passed on to a new generation of stewardship would bring me great satisfaction. The current owners have expended far greater funds on protecting, preserving, and improving this great landscape than is reflected in the asking price. This is truly a strong value for a beautiful Southern estate and working farm. I encourage anyone interested to contact us for a tour – we are more than happy to introduce others to this beautiful land.
– Daniel Hautamaki, Land Agent
Below Copied from Listing Page: selg.biz/8716
Introduction
Campbellton Farms is the most beautiful turn-key agricultural estate and investment available on the market today. The farm is 766 acres of rolling pastureland and cropland, fully fenced, with open hardwood and pine hammocks and ponds, giving the property a unique Old World character. The beauty of the landscape is matched by that of the luxurious 11,000 sq. ft. estate home, which boasts 6 bedrooms/5 baths, a pool, and an abundance of superlative features. A second 2,400 sq. ft. farmhouse, large enclosed metal equipment building, and long list of included machinery finalize this all-inclusive opportunity as one of the best values in high-class country living currently for sale.
The Land
Campbellton Farms is 766 acres of highly productive rolling red-clay vistas in one of the most highly sought-after locations in North Florida. The property sits just 20 minutes south of Dothan, AL and less than an hour from Panama City, FL, along U.S. Highway 231 approximately 4 miles south of the Florida/Alabama state line. Of the total acreage, 268 acres are currently leased for hay production, 226 acres are leased for row crops producing peanuts and cotton, and 191 acres are in picturesque Old Florida hardwood hammocks, natural upland pine, and cypress bottomland. The remainder of the acreage is made up of ponds, roads, buildings and landscaping; a full set of maps are available for download in the Attachments section below. The upland soils are nearly all USDA Prime Farmland. Current lease rates are available upon request. The property's 6-mile perimeter is entirely fenced, making this an ideal option for the horse enthusiast or cattle operator. There are 4 wells on the property providing water for all buildings, as well as irrigation for all landscaping (including the live oak and azalea-lined main drive), and an additional 10 water spigots spread around the property for filling watering troughs, etc. For the sportsman, two ponds are on the land: one 7.5-acre and one 1.5-acre, providing recreational opportunities for fishing and duck hunting, and additional irrigation reservoirs and watering sources. Each pond has a dedicated well and can be filled during dry periods to protect fish populations. The combination of high-quality hay and forage on the property and abundant shelter yield very strong deer and turkey populations. Dove fields could easily be established to increase available recreation options, and some of the upland pine would make for an ideal quail course. In short, there are no limits to the enjoyment that a property of this caliber provides.
The Estate
The elegance of the surrounding landscape meets its match in the refinement of the primary estate. Built in 2009, the 7,187 square feet of heated and cooled space with 6 bedrooms, 4 full-baths and 2 half-baths provide ample space for visitors and endless options for entertaining. For the best experience, please take our 3D tour of the main house.

Estate features include:
Large living room with built-in entertainment center and bookcase, built-in movie projector and drop-down screen, and floor-to-ceiling windows overlooking the patio and pool.
Spacious kitchen with high-end appliances, abundant cabinet and counter space and eat-in breakfast nook with pool views.
5 bedrooms, 3 full-baths and 2 half-baths with large closets and windows (an additional bed and bath are in the pool house).
Butler's pantry with decorative cabinetry to house fine china, silverware and table settings, and cellared wines.
Large laundry room with additional cabinet space, sink, and counter space. Would make a great flower-arranging space.
Separate office room with large windows providing light and views out over the pasture.
Exercise room with floor-to-ceiling mirrors.
Concrete-walled "safe room" with dedicated air vent and phone line.
Hardwood floors, 12″ molding, recessed lighting, and more finishing touches than can be listed.
In addition to the luxurious living space, the estate boasts a beautiful heated pool and hot tub with views of the pasture and hardwood hammocks, complete with pool-side terrace and separate pool house, with a finished bedroom and bath, additional poolside kitchen and bar, and storage space. There is a built-on 3-car finished garage, as well as another separate 2-car carport with an enclosed workshop, and enclosed generator room which houses a Cat whole-house diesel generator designed to come on automatically in case of power failure. These structures bring the final covered area to just under 11,000 sq. ft. The estate comes complete with a dedicated security system, and flood-lighting that provides visibility for the grounds around the estate at night. The grounds are fully landscaped, irrigated and manicured, designed to increase in beauty over time.
Separate from the main estate, there is also a 2,400 square foot (heated and cooled) traditional farmhouse on the grounds, built in 2007. It provides 4 more bedrooms and 3 baths for visiting family, a groundskeeper, or as a quaint country rental house to increase property income. The house is very well-kept and move-in ready. It provides views out over the larger pond. It also contains a 2-car garage and landscaped/irrigated grounds.
The Equipment
Campbellton Farms is a truly turn-key investment, and comes with everything you need to maintain the property. Additional improvements to the grounds include a 100'x50′ enclosed metal storage building with office, bathroom, and power. It adds more covered space with a built-on lean-to, and there is another 30'x95′ pole barn nearby. A complete list of equipment included in the sale is available for download in the Attachments section below. Highlights include:
Two John Deere tractors with comprehensive list of implements
Two farm trucks
John Deere 650J bulldozer
Kodiak 5-ton dump truck
Altec 50-foot boom bucket truck
Kubota Zero Turn mower
A variety of heavy-duty tools including chainsaws, pressure washers, welders, generators, and more
See full list in the Attachments section below
Conclusion
Campbellton Farms is one of the finest properties for sale of any type in the Southeast. Its combination of productivity and luxury create a value picture worthy of consideration by any serious buyer of agricultural estates. In addition to the income production, the nearly 2 miles of Highway 231 frontage and development potential present an opportunity for a conservation easement for anyone interested in tax reduction holdings. Furthermore, the State of Florida does not have an income tax for Florida homesteads and buyers from out of state could potentially see additional tax savings should they move. Add to these investment characteristics the sheer beauty and recreational opportunities, and the compelling case for owning this land is clear. To schedule your tour of Campbellton Farms, please give us a call today.