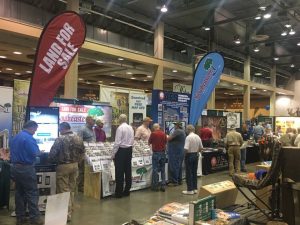 If you have been thinking of selling your rural land, now is a great time to get it on the market! Each summer, Southeastern Land Group attends numerous hunting and farm expos around the Southeast to advertise our clients' properties. If you are thinking of buying a piece of rural land, stop by and talk to any of our land brokers and agents. They will be happy to answer questions about specific properties or the land-buying process.
We try to do more than any other land company to get your property in front of all prospective buyers. We print and display fliers of land for sale, we use our 42″ touch screen to allow people to get a first-hand aerial view of all property listings on TerraPlat, and we have a tv showing all of our high-end property showcases of farms for sale.
Below is a list of the shows where we will be advertising land this summer. You still have time to get your property in the shows, but you must ACT NOW. Contact us today, and let our team of Land Brokers and Agents help you sell your land.
2018 Outdoor Expos where we will be advertising Your Land
Tennessee Valley Hunting and Fishing Expo
July 6-8  Huntsville, AL
World Deer Expo
July 13-15 Birmingham, AL
Florida Deer and Turkey Expo
July 20-22 Lakeland, FL
Georgia Outdoor News Outdoor Blast
July 27-29 Duluth, GA
ALFA Farm and Land Expo
August 4  Montgomery, AL
Buckmasters Expo
August 17-19 Montgomery, AL
Sunbelt Ag Expo
October 16-18  Moultrie, GA
Don't miss your opportunity to get your land in front of thousands of prospective buyers. Contact us today!
Written by: Jonathan Goode is an Accredited Land Consultant (ALC) and licensed land broker in Alabama and Mississippi. He co-hosts the weekly radio program, The Land Show, that covers many of these topics for people interested in buying or selling land in Alabama.
This post was tagged for the following search terms: World Deer Expo |  Tennessee Valley Hunting and Fishing Expo | Buckmasters Expo | ALFA Farm and Land Expo |Land for Sale in Alabama | Alabama Land for Sale | Accredited Land Consultant | Jonathan Goode | Southeastern Land Group